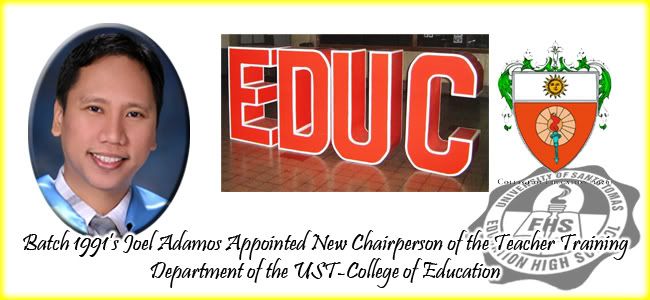 ADAMOS OF BATCH 1991 APPOINTED TEACHER-TRAINING DEPT. CHAIRPERSON OF UST-COLLEGE OF EDUCATION
Last November 11, 2009 (Wednesday), Asst. Prof. Joel L. Adamos, M.T.M., Class Salutatorian of Batch 1991, was formally appointed as the Chairperson of the Teacher-Training Department of UST's College of Education. Presently, the UST-College of Education enjoys the nationally recognized status of CENTER OF EXCELLENCE IN TEACHER EDUCATION.
Adamos is a 1995 BS Math major in Actuarial Science graduate of the UST-College of Science, and a Master's Degree in Teaching Mathematics holder. In 2007, he topped the nationwide Licensure Examination for Teachers. He has been a faculty member of the College of Education prior to his being appointed this past June as the Supervising Teacher for Mathematics at the Education High School. Adamos is currently pursuing his Doctor of Education degree major at the UST-Graduate School. In addition to these, he is presently serving the EHS General Alumni Association, Inc. as a member of the Board of Trustees and Auditor.
Your Education High School family is truly beaming with pride to have a member like you. Congratulations!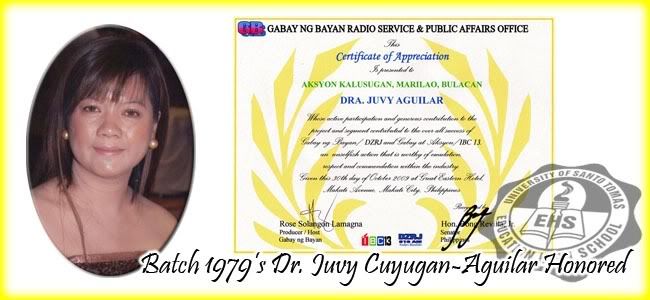 CUYUGAN-AGUILAR OF BATCH 1979 FETED BY IBC 13, DZRJ & SEN. REVILLA

Five days after being recognized by her Education High School family with the Totus Tuus Awards, Dr. Juvy Cuyugan-Aguilar, M.D. was honored by IBC 13 and DZRJ's Gabay at Aksyon and Gabay ng Bayan programs, in which Aguilar serves as consultant. The program provides the Filipino nation with useful tips, knowledge and updates on health issues. The award was recognized by Hon. Sen. Ramon "Bong" Revilla.

The awarding ceremonies took place at Aberdeen Court at Great Eastern Hotel in Makati Avenue, Makati City, last October 30, 2009.

To Dr. Juvy, your Education High School family is truly proud of you! Mabuhay ka!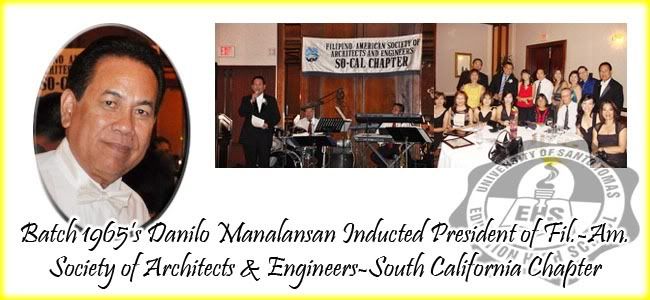 MANALANSAN OF BATCH 1965 INDUCTED PRESIDENT OF FASAE-SOCAL; EHSians REUNITE
It turned out to be a reunion of sorts for the UST Education High School, as EHS alumni from different batches came in support of their friend and schoolmate Dan Manalansan on his installation as President of FASAE.
The Filipino American Society of Architects and Engineers, Southern California Chapter, (FASAE SoCal) celebrated their 15th-Anniversary Dinner-Dance and Induction Ball last August 29, 2009 at Marriott Long Beach in California. It was attended by approximately one hundred eighty (180) friends, family and relatives of the members and officers of the prestigious organization of Southern California. The dinner-dance/induction party is held every two years to install the new set of officers and board of directors for two fiscal years. It was also a fund-raising event with the proceeds going to the scholarship program aimed to assist well-deserving students in the Philippines and in the United States, who are taking up technically-related courses. The newly inducted President of the organization is Engr. Danilo "Dan" Manalansan, an alumnus of UST-EHS (Batch 1965) and a Mechanical Engineering graduate of Mapua Institute of Technology. His theme for his term was entitled "Making a Difference ".
The guest speaker and inducting officer for that night was Engr. Benjamin Saldua, an Antenna Structural Engineer who works for the NASA Deep Space Network. Benji is a good friend of Dan and another alumnus of EHS, Batch 1964. He started his talk in a light and funny note that eased the audience. He talked about the NASA and the Deep Space Network, and how stations are strategically located around the world to maintain a 24-hour contact with the spacecraft millions of miles away. He gave us a glimpse of what a Filipino engineer is doing for the Space Program.
Several EHS alumni attended the event to show support to the newly inducted President and Guest Speaker. The emcee for the night's programme of activities was Ms. Myra Vergara-Villanueva, RN, from New York City, who made the evening even more interesting and made sure the activities were presented as planned. Mai is another alumna of EHS, Batch 1975. It was a glorious and memorable night for the induction of the new FASAE officers; awarding of the next FASAE scholar; enjoying a sumptuous dinner, and dancing the night away to the music of The Midnight Motion band, while raising money for the deserving scholars of the organization.
How else can you have fun, dancing, singing, networking with fellow engineers and architects, while doing it for a good cause?


We wish them all the best in the coming years and hope to see more attendees in their future Dinner/Dance.